MEMBERS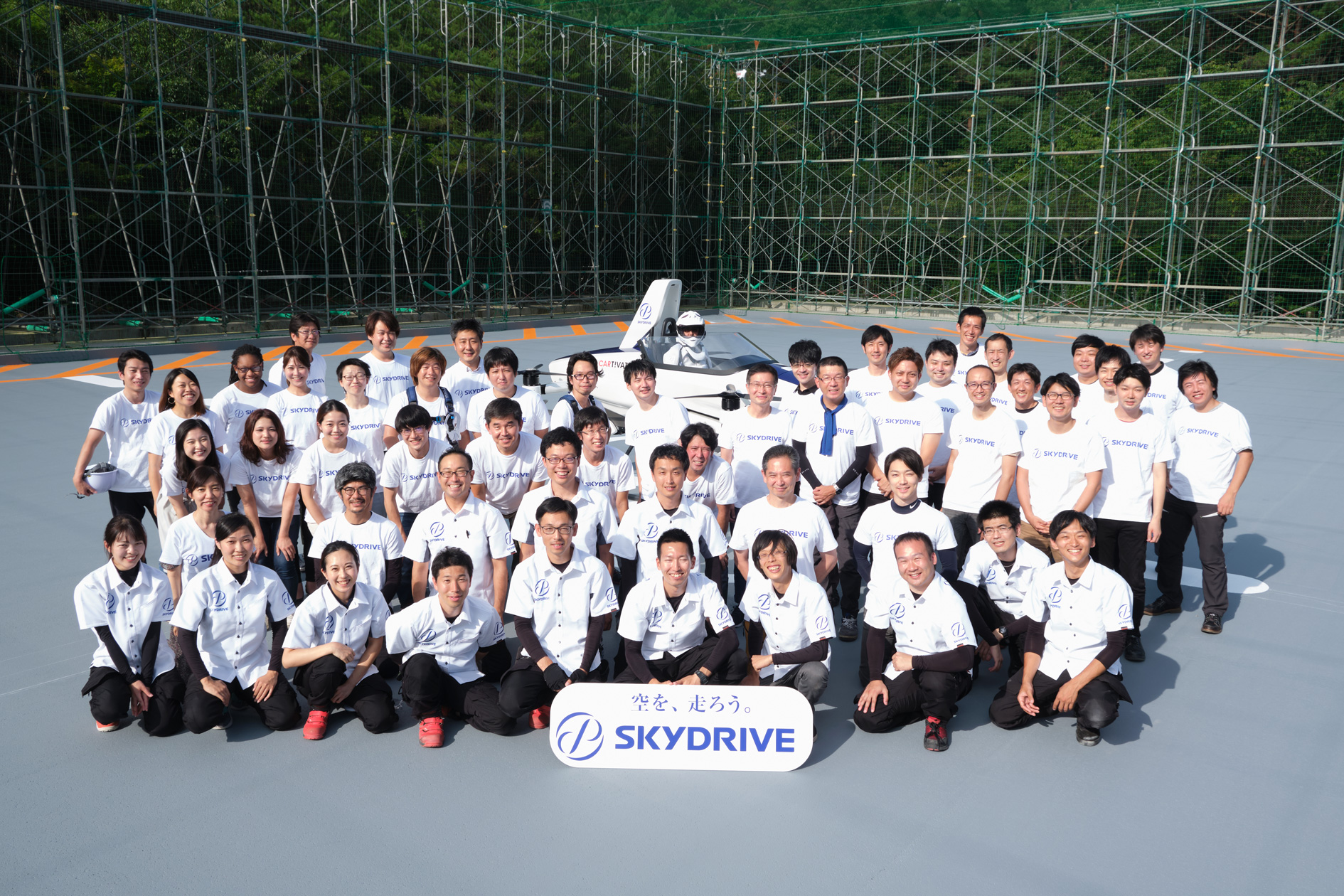 Chief Executive Officer

Tomohiro Fukuzawa

Graduated from Engineering dept., Tokyo University.
Worked at Toyota Motor Co. for a global procurement of car parts. Won the Cost improvement prize by Toyota production method in many production fields. Participated in CARTIVATOR and became a Co-representative Director in 2014. Established management consultant company for manufacturing industry in 2017 and improved the business for more than 20 companies. 

Established SkyDrive Inc. in 2018 and become CEO.

Chief Technology Officer

Nobuo Kishi

Graduated from Engineering department at Osaka Prefecture University.he joined Mitsubishi Heavy Industries in 1982.
Transferred to Mitsubishi Aircraft in 2010 and appointed chief engineer of MRJ (Mitsubishi Regional Jet), the first domestic jet-engine passenger aircraft in 2012.

Appointed Executive Vice President in 2015 to take leadership of development.

Chief Operating Officer

Takehiro Sato

A bachelor's degree and master's degree from the University of Tokyo, Faculty of Pharmaceutical Sciences. Joined a general consulting firm and worked on projects in a wide range of fields, including business strategy, new business development, and business reform in industries such as manufacturing, retail, and construction.

In October 2018, he joined SkyDrive Inc. as the first employee, and engaged in project leadership for the launch of the cargo drone business and the formulation of company-wide strategies. He has been in his current position since September 2021.

Outside Director

Shintaro Takahashi

Drone Fund Partner / Chief Executive of public policy Keio University
Graduated school, specially-appointed professor of media and governance.In Drone Fund, promote the activity to realize the Drone society and the Air mobility society as a public policy manager. In charge of strategic planning such as Industrial plan and System design for medium and long term, Infrastructure of society, Rule creation and Safety standard.In Keio University, develop an education program and industry-university-government collaboration.

Outside Director

Tatsuo Tsutsumi

After graduation from a graduate school, he worked for Sanwa Research Institute, Global Brain Corporation, and engaged in new business development and establishment and operation of corporate venture capital at Cyber Agent Inc., Recruit Co., Ltd., and GREE Inc. After that, he established a new venture capital fund (currently STRIVE III Limited Liability Partnership) and assumed the role of representative partner.

Outside Director

Toshihiro SHIROYA

PV of Innovation Promotion Office, Business Planning & Coordination Department, Development Bank of Japan
After graduating from university, he joined the Development Bank of Japan (DBJ), where he has been engaged in domestic and international investments and loan operations at the head office and branch offices.

External Auditor

Ikuko UURA

After graduating from university, she joined Recruit Co., Ltd. and worked in the accounting and marketing departments.
Since 2009, she has been involved in projects such as dealing with company listing, internal control and regulation development, and risk countermeasures in the area of compliance and internal control.
As of July 2021, she is currently the General Manager of the Compliance and Internal Control Promotion Office at Recruit Co., Ltd.

She has been a part-time Auditor of SkyDrive since April 2021.

Chief Financial Officer

Hiromi GO

After graduating from a university in the U.S. and returning to Japan, he worked for Deutsche Securities Inc., SMBC Nikko Securities Inc. Ltd., and then Morgan Stanley MUFG Securities Co respectively.

Chief Strategy Officer

Hiroyuki Murai

Graduated from Osaka University, School of Economics. Joined SkyDrive after working for NTT data, SONY, and Recruit. Former executive officer at Macromill, a rapidly-growing global marketing research and digital marketing solutions provider. Involved in business development and management, M&A and startup investment at each companies.
At Recruit, he established and managed several business subsidiaries in ASEAN countries. After returning to Japan, he co-founded cross-border VC. Chief Strategy Officer (CSO) of SkyDrive since February 2022.

Head of Air Mobility Division

Yugo Fukuhara

He graduated from Kyoto University with a bachelor's degree of engineering and the University of Tokyo with a master degree of engineering. After joining Mitsubishi Heavy Industries in 1991, he was engaged in the development of fighter jets and other aircraft as an engineer, and launched the MRJ project, Japan's first jet airliner, with a small group of core members. After Mitsubishi Aircraft Corporation was established in 2008, he served as marketing leader and head of sales & marketing, and received orders from domestic and overseas airlines and leasing companies. He joined SkyDrive in January 2021, and has been General Manager, Head of AirMobility Division since September 2021.

Head of Cargo Drone Division

Toshio Narimatsu

Experienced in the design and manufacture of molds and jigs for optical components, and the trial manufacture and start-up of medical devices at a parts manufacturer.
After that, he joined SkyDrive in 2020 after working at a machine manufacturer, where he was involved in the entire process from sales to delivery of automated equipment for parts manufacturing, assembly, and transport for industries such as automobiles, construction machinery, and optical equipment, and after working in sales and engineering of machine tools and their peripherals.

Technical fellow / Air mobility pilot

Toshio Ando

Head of flight unit. President of the construction company in tandem with Produce & fly with the RC of amphibious airplane for 40 years and produced more than 30 original drones.
Participated in CARTIVATOR in 2017.
In SkyDrive, in charge of VP of Technology.

Head of CEO's office

Sumie Miyauchi

Graduated from the master's degree of Management Globis university.
In charged of editing, branding, internet marketing, partnership, R&D in Recruit Co. Experienced manager of marketing department for Recruit Co. Won several prizes such as Cannes Lions, Good design award.
Participated in CARTIVATOR in 2017.
For SkyDrive, in charge of business such as marketing, Human resource.

Technical Adviser

Tatsuya IYOBE

Advisor in the Cargo Drone Department at SkyDrive.

Technical Adviser

Daisuke IWAKURA

Advisor in the Cargo Drone Department at SkyDrive.
Adviser
Adviser

Hisashi Matsumoto

Professor at the Nippon Medical School Born in Ishikawa, Resident in Chiba After graduation from Kanazawa university, he become a Gastroenterological surgeon then emergency physician from 2000. He is a pioneer of Helicopter emergency medical services (doctor-helicopters).

1987: Joined Department of Gastroenterological Surgery, Kanawzawa University.
2000- Emergency and critical care center, Nippon Medical School Chiba Hokusoh Hospital
2014: Became Professor Nippon Medical School
2016: Became Assistant Director of Hospital, Nippon Medical School Chiba Hokusoh Hospital
2017: Got an MBA (Anglia Ruskin University, UK)

Adviser

Hiroaki Sugita

1983: Graduated from Department of Social Engineering at Tokyo Institute of Technology
1984: Joined JTB
1993: Graduated from Keio University, Graduate School of Business Administration
1994: Joined the Boston Consulting Group
2001: Assigned to Managing Director & Partner
2006: Appointed to the head of Japan Office
2007: Appointed to Managing Director & Senior Partner
2016: Appointed to Japan Representative, The Boston Consulting Group
2018: Appointed to Director, United Nations World Food Programme (WFP)
2021- Appointed to Managing Director & Senior Partner, The Boston Consulting Group
2021- Professor at Waseda University Business School (concurrent post)