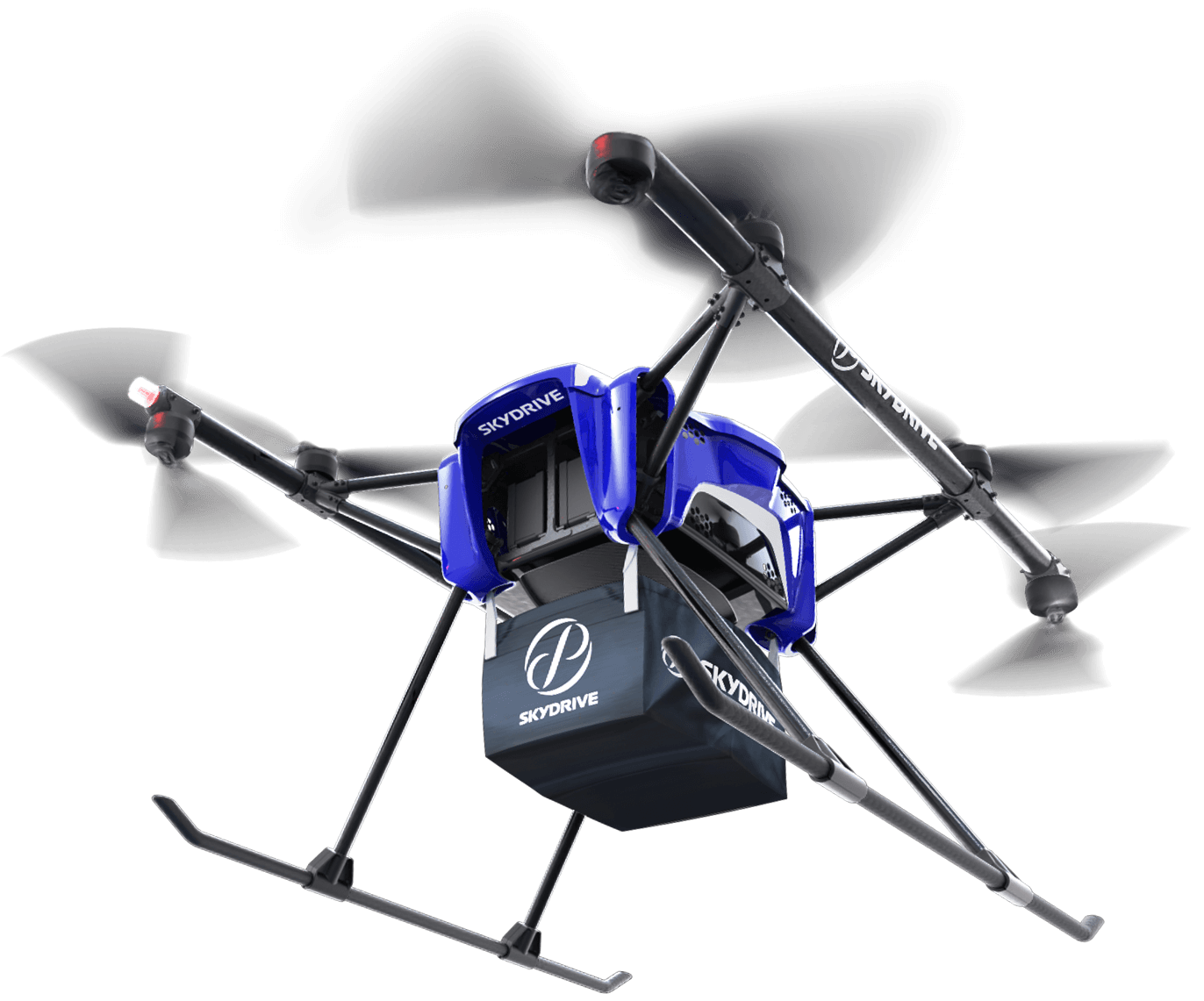 SkyLift transports your payload to wherever you need it most.
SkyLift is uniquely suited for sites where costs or terrain make it impractical or difficult for a helicopter or crane to operate. It also makes working in mountainous and other inaccessible areas more efficient and less dangerous for workers.
The SkyLift cargo drone provides safe, automated aerial transport of heavy materials to virtually any location, even locations where traditional methods of transport can't operate. Manufactured in Japan by SkyDrive, SkyLift carries cargo of up to 30 kg on each flight — up to 700 kg per day — and delivers its payload without landing by hovering and lowering the cargo to the ground with a powerful 30-meter hoist mechanism.
POTENTIAL USE SCENARIOS

POWER COMPANY
Transport of materials for use in pylon maintenance
Work scenario: Transport 40 cans of paint to pylons located one kilometer away as the drone flies.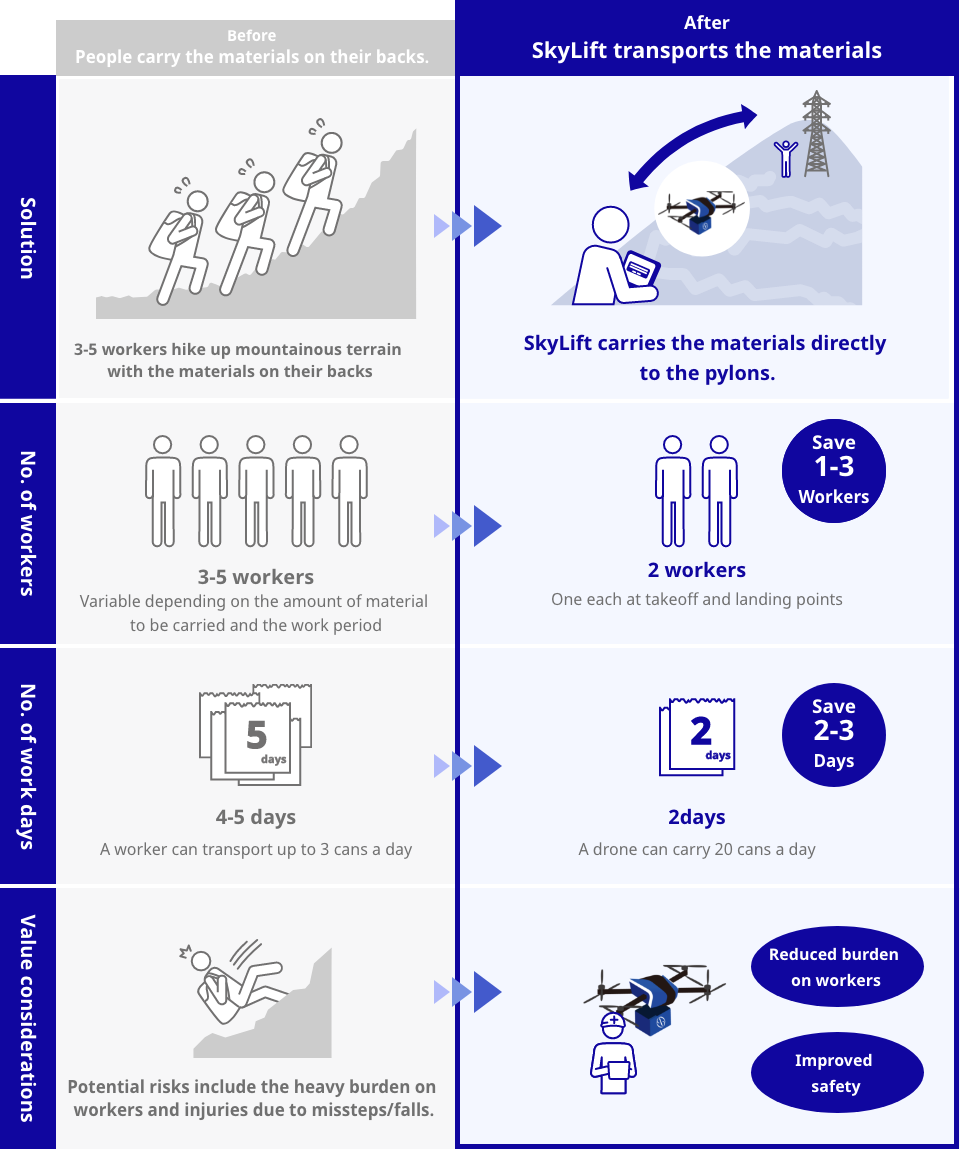 CIVIL ENGINEERING AND CONSTRUCTION
Aerial transport of materials and equipment to elevated
expressway construction site
Work scenario: Transport materials and equipment between unconnected piers of an elevated expressway.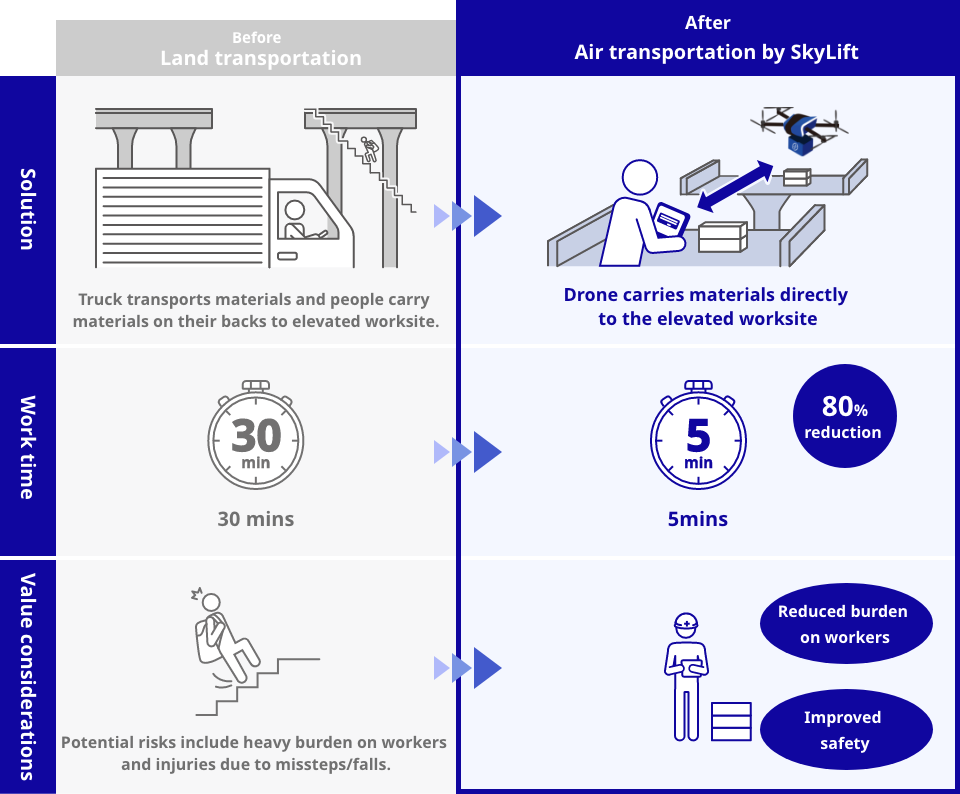 DISASTER RELIEF
Transport of first-aid materials and relief supplies to remote disaster sites.

※The payload can be increased to as much as 50 kg if failsafe system is removed for use during emergency/disaster relief.

TRANSPORTATION TO MOUNTAIN LODGES

TRANSPORTATION OF AGRICULTURAL CROPS AND NURSERY PLANTS/SEEDLINGS
FEATURES OF SKYLIFT
No upfront investment. SkyLift is offered through a subscription service.

SkyLift includes our worry-free support network and insurance for your peace of mind.
OPERATION PROCESS
1

Apply for flight permit

If a flight permit is required, apply at least 10 business days prior to the first day of planned flights.

2

Charge the battery

Charge the battery the day before the planned flight.

3

Loading and transportation

Transport SkyLift and its accessories, and the cargo to the takeoff site.

4

Set up

Confirm the safety of the takeoff and landing sites and set up SkyLift for safe operations.

5

Flight operations

Operate the SkyLift to transport the cargo.

6

After-use inspection

Check the drone and finish the job.
STEPS TO INTRODUCING SKYLIFT
1

Inquiry about introducing the SkyLift cargo drone

2

Consultation regarding purpose of use, flight environment, and other requirements

3

Solution proposal

4

Contract

5

Operational training

6

Delivery
Ongoing aftersales support
We continue to offer support after the introduction of our cargo drone.