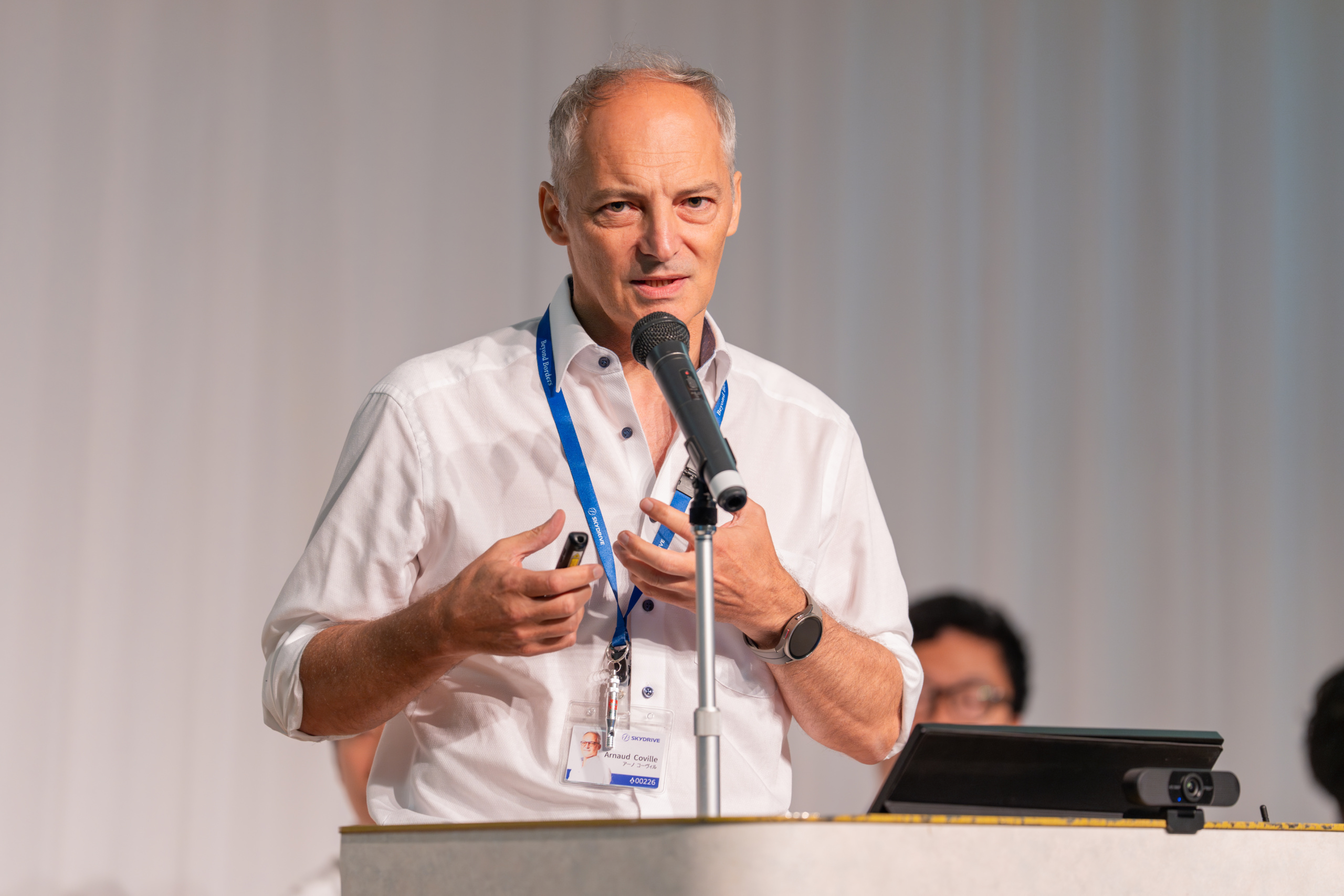 CDO / Chief Development Officer
Holds a PhD in Automatic Control and Robotics, and an engineering degree from Paris Sorbonne University.
Formerly CTO of Volocopter, he has grown the Volocopter Engineering Organisation that designs the Volocity. Prior to focusing on electric flight vehicle, he has been in various management positions responsible for the development of vehicles, systems and structures in various programs of helicopters, regional jets, and large aircrafts.
Joined SkyDrive in 2023.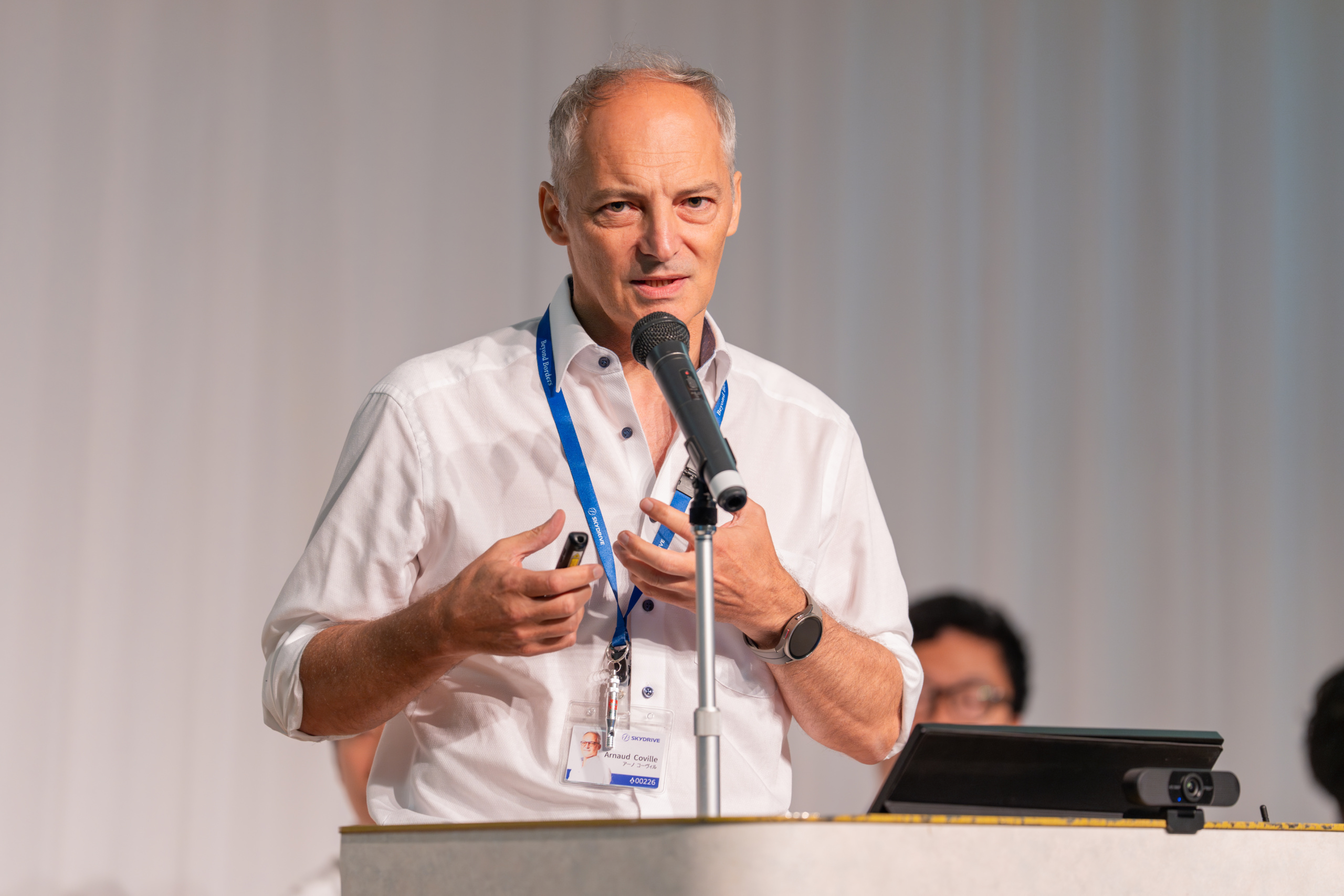 – Please introduce yourself, including your career background.
Hello, my name is Arnaud Coville. I am the Chief Development Officer at SkyDrive. I am responsible for SkyDrive's engineering. Before joining SkyDrive in January 2023, I was the Chief Technology Officer at Volocopter, which is building and developing an eVTOL in Germany.

Before this, I worked at Airbus Helicopter for about 17 years. I was responsible for the EC135, known in Japan as Doctor Helicopter. I led the market definitions, design activities, and the development certifications of the upgrade of the EC135. So, I have experience in certifying new aircrafts. Before joining Airbus Helicopters, I was working in the aerospace industry on fixed-wing aircrafts as an OEM and a first tier supplier. I am an engineer and have a PhD in Automatic Control.
– Could you tell us about the capacity of SkyDrive eVTOL?
Let me introduce our eVTOL aircraft "SKYDRIVE." The SKYDRIVE will be an aircraft with one pilot and two passengers. We plan to upgrade this aircraft to be capable of autonomous flight and accommodate three passengers in the future.
– What is the maximum range of the flight? Is there any concern about the battery?
For the range, we will start with a range of 15 km which is achievable with a current commercially available battery. Then we will design the aircraft so that we can easily incorporate new battery technology and upgrade the aircraft range to offer longer flights. The EV industry will push the energy density in batteries from 200 kWg/kg to 500 kWg/kg. This will enable the flight range to gain 40 km to cover all cities in the world.
– Specifically, what do you do to improve the aircraft performance?
We will use the technological advancement that is pushed by the automotive industry in order to increase the flight range of our aircraft. The automobile industry also puts a large cost pressure on battery manufacturers, which will be beneficial for us. The design of our aircraft only takes advantage of the technology that is available on today's market, so that we are sure that we can build the aircrafts. We can use any kind of new technologies in batteries, motors or any materials to upgrade our aircrafts and provide more services to the customers. Furthermore, the design strategy aims to minimize the infrastructure impact. Therefore, building small sized aircrafts allows us to reuse every pad that is already available while using EV technology for charging.
So, let me give you specifications of our aircraft. Our aircraft will have a maximum takeoff weight of approximately 1.4 tons. According to the data, the range is 15 km at the speed of 80 km per hour.

Specifications of the SKYDRIVE
Dimensions (L x W x H) : Approximately 11.5 m x 11.3 m x 3 m (37.7 ft x 37 ft x 10 ft) including rotors
Seating Capacity: 3 (1 pilot and 2 passengers)
Power Supply: Battery Electric
Propulsion: 12 units of motors and rotors
Maximum Takeoff Weight: Approximately 1,400 ㎏ (3,100 lbs.)
Maximum Cruise Speed (air seed): 100 km/h (54 KIAS)
Range: Approximately 15 km (9 statute miles)
There is a recurring question in the eVTOL world about multicopters regarding lift and push or tilting rotors, as we have optimized multicopters for hovering and flight at low speed. Up to around 100 km per hour, they are less efficient in forward speed, high speed to lift and push or tilting rotor aircraft, which are optimized for flying at high speed at around 200 km to 250 km per hour, and are not well adapted to land on small areas and hover configurations.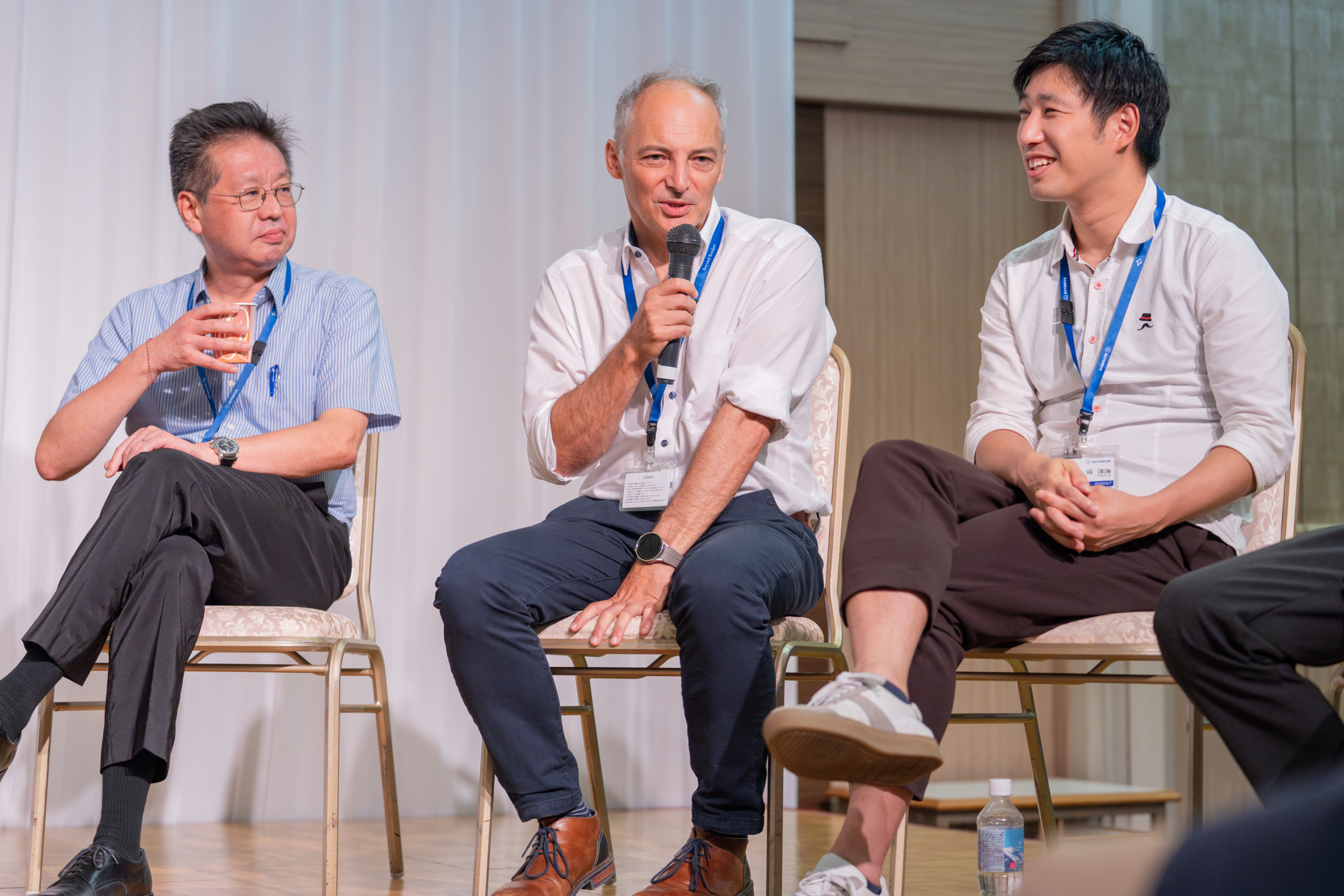 – Could you tell us about the global eVTOL market?
The success of the aircraft design will be achieved due to the nature of the current market. 
We have tourist flights that are already available with helicopters across the world. There are some prominent examples at the Grand Canyon, Manhattan, New York in the US and also in Tokyo. You can fly for six minutes for 10,000 yen, but flights over densely populated areas are prohibited, in particular for single-engine helicopters.
Let's now look at urban air mobility. 75 % of the world's population lives in cities. And this number is growing. Congestion is also increasing in those cities. The subway and bus network are inefficient and cars stop often, making stopping often and making the transport in the city congested. An innovative way to connect one point of the city to another point of the city could be to fly over.In report in October 2023, Royal Aeronautical Society mentioned that removing the reliance on cars and the already over-congested road network is a key driver in Japan's push towards UAM and eVTOLs (*1).
Today it is said that there are 7 million rides per day in the Tokyo subway and 35,000 taxis in Tokyo. Only a very small fraction of these rides of taxis would generate demand for our eVTOL aircraft, which would feed the production for many years. This would be only for Tokyo, so imagine how big the market is if you look worldwide.
– Are there any specific markets you expect?
I believe the first and the biggest market will be the inner city market.  Why is it the first? It takes a lot of political will to make these kinds of changes happen.
Political support is key for introducing eVTOL. We see across the world that city mayors want to introduce eVTOL, like in Paris, Rome, Singapore, Chicago, San Francisco, or New York and there is political will behind the city.
However, there are no political representatives for a trip between Osaka and Nagoya. So, this market will develop slowly. And if you look at a competitor of ours in the eVTOL market, some have designed a tilting rotor eVTOL with over 100 km range. However, they are advertising that they will do short-range up to 40 km of inner-city trips. This shows that we are betting on the right market and now people in the industry are realizing that.
  – Are multicopters suitable for cities?
The multicopter can contain two passengers, truly optimized for tourism and city transportation. Regarding the question of limited size, it can land on virtually any existing port due to its optimization of hovering flight. The multicopter configuration is also greatly simpler to certify, as it is very similar to a helicopter.


(*1) ROYAL AERONAUTICAL SOCIETY, "eVTOLs – set to be big in Japan?," 10 Nov 2023
 
We talked about the SKYDRIVE's detailed specifications and its market position in the first session. In the next session, we will ask him about SKYDRIVE's architecture, characteristics and our outlook for the future.
→Arnaud Coville Interview#2