Leading flying car developer SkyDrive, established by the members of CARTIVATOR, a group of aircraft, drones, and automotive engineers, has secured 14 Million USD through Third-party share issuance funding and subsidies. A total of 18.5 Million USD has now been raised and manned test flights will begin this year.
Contributing venture capital partners of SkyDrive Inc. include Drone Fund, Z Corporation, STRIVE III Limited Liability Partnership, ITOCHU Technology Ventures, Inc. and Energy & Environment Investment, Inc. The president of STRIVE III Limited Liability Partnership, Tatsuo Tsutsumi, steps up as outside director of SkyDrive Inc.
SkyDrive Chief Executive Tomohiro Fukuzawa said:
"We are delighted to be able to announce this financing breakthrough, which is testament to our hardworking team and speed of development. Securing the backing of these investors will be instrumental in getting our world-leading technology off the ground and into the skies."
"We are clear that our product will improve the lives of consumers right across the world by providing efficiency of movement and creating happiness in flying – be it linking people to jobs, their family or a dream holiday. Flying cars will be the travel mode of the future and today we took a giant leap towards making that happen."
In additional to focusing on the landmark upcoming manned test flight, the company is working on product development and certification. The next phase in SkyDrive's expansion plan is to recruit talented and passionate people to achieve the collective goal of bringing "Flight for All".
Comments from investors:
Drone Fund / Co-representative : Mr. Kotaro Chiba
(Chiba Dojo Drone Department No. 2 Investment Limited Partnership)
"The Japanese government decided to start the industrialization of Flying Cars in the Growth Strategy Cabinet meeting in fiscal 2023. If the flying car is implemented, we will be able to shorten travel times and it will be possible to develop new routes. SkyDrive Inc. has been steadily moving forward, including the first successful outdoor flight experiment in Japan since its establishment last year. We are also actively involved in rule making, such as participating in public-private councils for the sky mobility revolution. We hope that this funding will further advance the development of safe vehicles."
Z Corporation Inc. / President and Representative Director : Mr. Toru Takada
(Z Fund No. 1 Investment Limited Partnership)
"Many people may have dreamed of riding a flying car. I am one of them. SkyDrive Inc. strives day by day with high technology and passion toward the achievement of "Free Flying Era" and we are honored to be able to accompany it as an investor. I will give my best to support with all the investors who participated this time."
STRIVE III Limited Liability Partnership / Representative Partner : Mr. Tatsuo Tsutsumi
(STRIVE III Investment Limited Partnership)
"Don't you feel excited with the word "Flying Car"? When I heard the presentation for the first time, I decided to invest to realize the vision of SkyDrive Inc. together. High levels of technical expertise and Business development capabilities to maintain the environment by getting various stakeholders involved. I would like to support thoroughly with these two strengths as a lead investor."
ITOCHU Technology Ventures Co., Ltd. / President and CEO : Mr. Shinzo Nakano
(Technology Ventures No. 5 Investment Limited Partnership)
"SkyDrive Inc. has gathered talented people from various industries to achieve the future of "Flying Cars". We invested this time to sympathize with and support the challenging future they envision. In order to elevate the company to become a Japanese company that can win the world, we will provide extensive support in the areas of fundraising and business development while sweating together."
Energy & Environment Investment, Inc. / President : Mr. Shuichiro Kawamura
(EEI No. 4 Innovation & Impact Investment Limited Partnership)
"The Paris Agreement was agreed in 2017, and efforts to reduce greenhouse gas emissions are accelerating further around the world. The spread of EVs have already begun in car industry, and the electrification of aircraft / helicopters is about to begin. In this situation, SkyDrive Inc. aims to enter into the world market in this field, so we are very honored to participate, and we will do our best to support not only the environment & energy sectors."
About SkyDrive
SkyDrive Inc. was established by the members of CARTIVATOR, a group of aircraft, drones, and automotive engineers. In December 2018, the first Japanese outdoor flight test of a flying car (unmanned) was conducted with regular testing throughout 2019. Japan's largest flying car flight test field (as of September 2019) was opened in Toyota City in June 2019 as part of a "partnership agreement of flying car development for the creation of new industries" with the cooperation of Aichi Prefecture and Toyota City. Development for this year's manned flight test launch is underway, as well as preparation for the flight demonstration in summer of 2020 and finally sales release in 2023.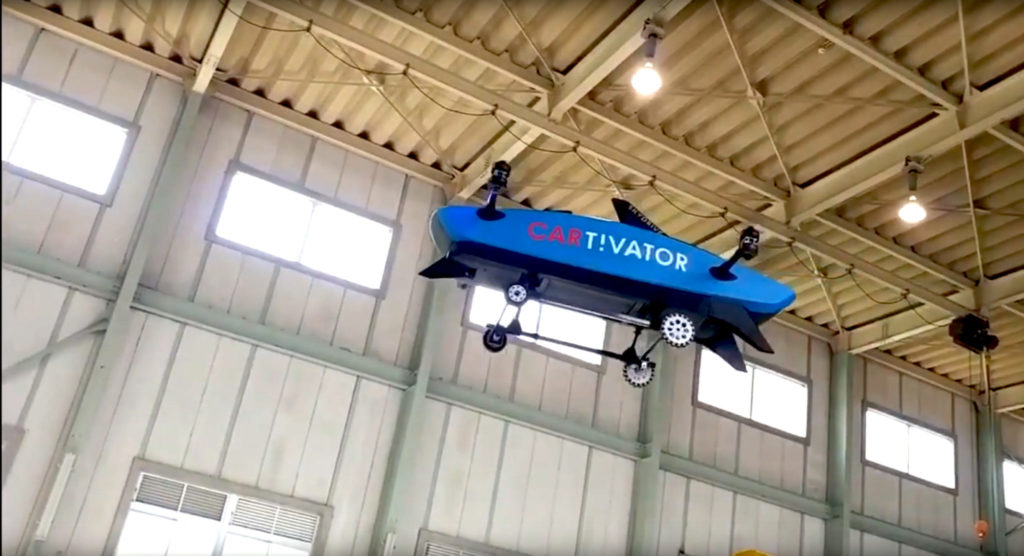 ▲Test Flight(unmanned)

About Flying Cars
Flying car is a general term for mobility with electric, autopilot, and vertical take-off and landing functions. Electrical Vertical Take-off and Landing (eVTOL) is another term used to describe this technology in the sector 'Urban Air Mobility'. Uber announced that it will start business as a service platform in 2023, and eVTOLs have high hopes to become a key part of Mobility as a Service (MaaS). It is one of the next generation industries expected to expand to 1.5 Trillion USD globally by 2040 (* 1: Morgan Stanley survey). In Japan, the "Public-Private Conference for Future Air Mobility" has been held since 2018, and a roadmap (*2: Ministry of Economy, Trade and Industry / Ministry of Land, Infrastructure, Transport and Tourism) has been established with the target of starting business by 2030. It is proposed to be used as a means of alleviation of congestion in developed countries, emergency use and transportation which does not require infrastructure in developing countries. As the first developer of flying cars in Japan, we will use these funds for the development costs of materials and human resources, to start manned flight tests this year.
*1: https://www.morganstanley.com/ideas/autonomous-aircraft
*2: https://www.meti.go.jp/english/press/2018/1220_004.html
Movie
SkyDrive Details
・Name: SkyDrive Inc.
・Contact: info@skydrive.co.jp
・Home page: https://en.skydrive2020.com/
・Address:
Tokyo Office : Shinjuku-ku, Tokyo, JAPAN
Toyota Test Field : Asuke-chiku, Toyota-shi, Aichi, JAPAN
Toyota R&D Center : SENTAN, Koromo-machi 2-1-1, Toyota-shi, Aichi, JAPAN
Indoor Flight Test Port : Mifune-cho, Toyota-shi, Aichi, JAPAN
※The following is the specific information for press. Please refrain from information disclosure via private SNS etc.【Contact detail for inquiries by press】
SkyDrive Inc. contact personnel : Sumie Miyauchi
Email address:info@skydrive.co.jp
Recruitment details: https://en.skydrive2020.com/recruit/